Recognizing Eating Disorders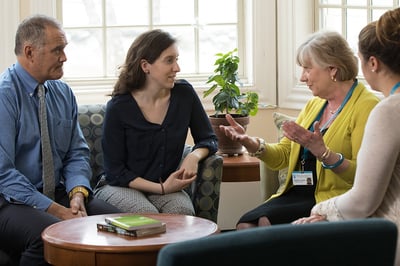 Eating disorders happen as a result of severe disturbances in eating behavior, such as unhealthy reduction of food intake or extreme overeating. These patterns can be caused by feelings of distress or concern about body shape or weight, and they harm normal body composition and function.
A person with an eating disorder may have started out just eating smaller or larger amounts of food than usual, but at some point, the urge to eat less or more spirals out of control.
Eating disorders are not due to a failure of will or behavior; rather, they are real, treatable medical illnesses in which certain abnormal patterns of eating take on a life of their own.
An estimated .5-3.7% of females struggle with anorexia in their lifetime, while an estimated 1.1-4.2% of females have bulimia in their lifetime. Community surveys have estimated that between 2% and 5% of Americans experience binge eating disorder in a six-month period.
Anorexia
Anorexia nervosa, a form of self-starvation, is characterized by a distorted body image that leads to restricted eating and other behavior that prevents a person from gaining weight. The majority of those affected are females (90-95%), although these statistics are changing as males are now more frequently affected. Initially identified in upper- and middle-class families, anorexia is now known to be found in all socioeconomic groups and a variety of ethnic and racial groups.
Bulimia
Bulimia is characterized by uncontrolled episodes of overeating, called bingeing, followed by purging with methods such as vomiting or misuse of laxatives. Bingeing is eating much larger amounts of food than you would normally eat in a short period of time, usually less than 2 hours. The binge-purge cycles can happen from many times a day to several times a week. Bulimia most often affects females and starts during the teenage years, but it can also affect males. Other illnesses, such as substance misuse, anxiety disorders, and mood disorders are common in people with bulimia.
Binge Eating Disorder
Binge eating disorder is an illness that involves overeating in a specific, defined period of time. More food is eaten than others eat in the same amount of time, under the same circumstances. It differs from bulimia as individuals do not purge their bodies of the excess food via vomiting, laxative misuse, or diuretic misuse. Binge eating disorder is found in about 1% to 2% of the general population and is seen more often in women than men.