Is your child struggling to manage emotions or behaviors? McLean is here to help.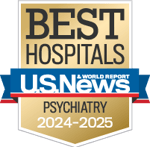 If you are noticing unhealthy behaviors in your child, teen, or young adult and need help to support them, McLean's treatment team is ready to help you and your family, and you don't even have to leave your home.
McLean Hospital offers online treatment programs for children, adolescents, and young adults who live in Massachusetts. These programs are designed to be a higher level of care than outpatient therapy and help provide structured support and treatment for your child or adolescents, as well as for parents. Our programs use proven treatments to help nurture and develop skills that support growth and healthy functioning.
Let us help you navigate your treatment options.
Call us today.

877.403.6642

.
For teens struggling with anxiety, OCD, panic disorders, or specific phobias:
Integrated individual, family, and group therapy over 4-6 weeks
Designed specifically for preteens aged 7-12 and adolescents aged 13-19
Conveniently offered from 2-5pm, four days a week, to complement a school schedule
For children, adolescents, or young adults who need treatment to manage depression, self-injury, emerging BPD, and relationship difficulties:
Comprehensive, virtual DBT treatment
Age-specific group therapy for preteens (8-12), adolescents (13-18), and young adults (18-22)
Weekly individual, family, and family skills therapy and support sessions; between-session skills coaching also available
Note: All online programming is conducted through a confidential, HIPAA-compliant platform
Why McLean?
McLean Hospital's online treatment programs use research-based treatment models, such as cognitive behavior therapy (CBT), dialectical behavior therapy (DBT), and exposure and response prevention therapy (ERP). A combination of individual and group therapies, along with education for families, are provided by our Harvard Medical School-affiliated clinicians.
Help McLean Support Your Family
Your inquiry is confidential, and our supportive team of clinicians can provide consultation to help identify which services can be most helpful for your family. Supportive, compassionate virtual treatment is a phone call away.
We're ready to talk. Call

877.403.6642

.